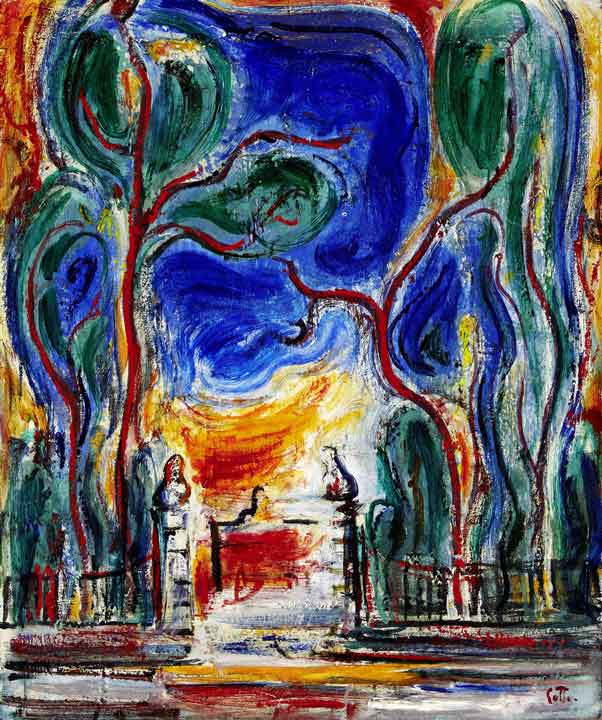 Cabinet: artworks from the storage.
Serge Brignoni / Carlo Cotti / Felice Filippini / Max Huber
15 January - 9 April 2023
CABINET: WORKS FROM STORAGE is a selection of pieces by four artists who also work in the local area, coming from private collections: Serge Brignoni, Carlo Cotti, Felice Filippini and Max Huber.
The exhibition is collateral to EXI[S]T, with the aim of drawing comparisons between different contexts and periods in history, achieving a balance between tradition and renewal, between "the environment" of painting and the research required by the new avant-gardes that permeated Europe in the early twentieth century.
Four artists with roots in Ticino chose it as the target for developing their artistic practice, accepting the invitation expressed by a land that is harsh and ungenerous, but also symbiotic and limbic in a European panorama dominated by wars, when Ticino hosted many European personalities of considerable stature at the turn of the century who came in search of an existential Utopia, at a time when it was still possible to live and die of art and vision.
Mario Casanova
Bellinzona, 18 December 2022.
Carlo Cotti (1903-1980), Lugano che scompare. Villa Ciani di maggio, 1960. Oil on canvas, signed lower right, signed again, entitled and dated on back of the canvas, 74 × 61 cm. Private collection, Switzerland.
Museo e Centro d'Arte Contemporanea Ticino
Via Tamaro 3, Bellinzona.