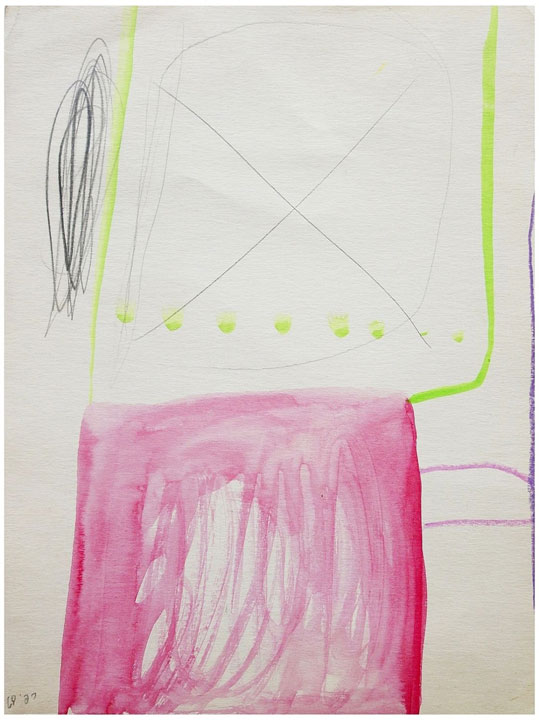 Enigma Variations: An Exhibition about Fluidity of Genre.
Jérémie Blanes / Serge Brignoni / Anna Choi / Carmelo Cutuli / Pier Giorgio De Pinto / Hans Hartung / Fritz Hug / Martin Lauterburg / Raffi Lavie / Works in porcelain from the Meissen Manufactory / Erik Mittasch / Rudolf Mumprecht / Lea Nikel / Ivor George Sexton / Valter Luca Signorile
7 March - 16 May 2021
Is art visionary or precursory? Or does it simply bear witness to its times?
The answer might be that both postulates, as they unfold, each in its own way, encompass and reveal this dual truth, since what we are experiencing in these times of severe political crisis is a return, or at least a reprise, of aspects of artistic and/or philosophical thought from the past. It's as though our current day and age had no present, little knowledge of the past and scanty ability to look forward into the future… The usual questions about creative areas that are linked, broadly speaking, or perhaps only marginally, to creativity in general.
The politicisation of creativity within the various different geographies of artistic knowledge will tend gradually to distract attention from magic and humanity, i.e. from the Utopian and timeless aspects of artistic production in general. The only purpose of ethical principles, which are so often formulated artificially by the politician of the day, is to restrict the potential and the creative force of those who make and propose their art without seeking any permission to do so. And this is something that happens in democratic republican times, when an excess of rights nourishes an ever-increasing sense of injustice. To put a gag on speech, sight and sound seems to be the inevitable evil that afflicts the concept of the post-contemporary, whose ideological image is, paradoxically enough, actually the one based on the opposite, the inoculated idea of hyper-freedom: of controlled consumption, to be sure. In a nutshell, man remains an animal and a genius a genius. Are we still allowed to say that?
And while the talk these days is about post-human, when that concept already cropped up a few decades ago, natural selection has to run its course, once and for all killing off those corpses that still draw breath.
The concept of power, in any political model, applies all possible laws so that fashion, blindness, gagging and deafness will suffocate any manifestations. We believe that this is intrinsic to the very nature of the concept of "power", i.e. a sort of legalised imposition of a restricted group. And we also believe that the phenomenon of hypertrophy typical of a society based on socio-politico-economic growth has also corrupted and derailed the world of art, reducing it to another of the manifold slices of market that follow one after another. We are in the midst of a process of decay of surplus values, so much so that the institutional containers often arouse greater interest than the art they contain. Is there still any significance of growth in talking about a museum, rather than its "historical" contents, in the framework of cultural policy today, other than representing the significance of a bourgeois society? Is there still space for imagination and contemplation in symbiosis with the universe around us?
Where is art going?
Officially, wherever we are taken by the traffic of museums, not so much brought to their knees by the pandemic as worn down by the continuous process of scouring and recycling.
Refocusing our eyes and out interest on the meaning of what we are looking at and trying to observe it would be a good antidote to the apathy and increasing antipathy that exist towards public manifestations of culture.
We do not know whether research and study, or (re)discovery, are fundamental and necessary. What we do know, however, is that ENIGMA VARIATIONS furnishes no political response in this sense, but tackles a method of observation of dates and images past and present, in which the curators aim to ask the public to adopt an attitude of reaction to the works selected. From different periods and by different artists, these reveal certain methods of research of a paradigm of image, a certain style capable of defining their moment in history, drawing on points of contact with the concept of the avant-garde.
A list of artists who have worked in this sense would certainly include the names of Serge Brignoni, Hans Hartung, Raffi Lavie, Rudolf Mumprecht and Lea Nikel, all artists who worked and conducted research in Europe and the Middle East from the beginning of the twentieth century to the seventies, searching for and finding solutions of form in juxtaposition to a political world in a state of flux.
Their works are accompanied here by those of young artists of today, whose research draws up new and more sensory than stylistic approaches to discovery.
Mario Casanova
Bellinzona, December 2020
Translation by Pete Kercher
Raffi Lavie (1937-2007). Untitled, 1968. Watercolour, color pastels and graphite on paper, 33 x 25 cm. Private collection, Switzerland.
Museo e Centro d'Arte Contemporanea Ticino
Via Tamaro 3, Bellinzona.