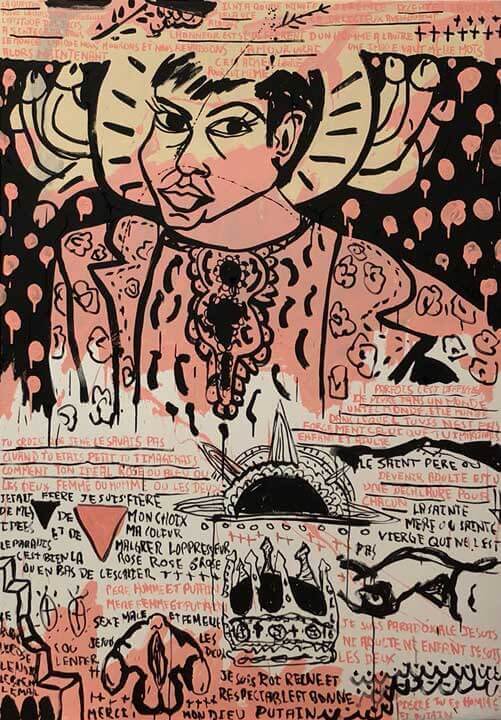 Jérémie Blanes
New Works
27 January - 7 April 2019
The MACT/CACT is opening the 2019 season with a one-man show of the French artist Jérémie Blanes (1975).
It is no coincidence that our Institute has decided to follow up on the previous exhibition dedicated to the Swiss artist Martin Disler (1949-1996) by pursuing a line that compares two creators of art who, while different, show evidence of sharing some points of intersection, from their approach to the image to the manner in which it is conceived.
Blanes draws his inspiration from the uncompromising environment of painting in practice that bears the hallmarks of a vigorously self-taught vocation: he never actually intends to refer in any way at all to official or institutionalised academism, which as a matter of fact is unknown territory to him.
This means that he thrives on experience, on frequenting it and on meeting and clashing with it, on the society that surrounds them and where they grew, on life, pure and simple. As we said before, his definition of artistic work comes together outside the confines of the official milieu of art critique, but takes shape starting from the work itself, from its more iconological than iconographic importance. Art, then, is something he sees as a product, a requirement and a mirror of life, not as visual education.
This is an important issue for us, as an artist's choices of idiom and theme are all the more valid, the more emancipated is their author in his relationship with what we generally call the real world.
And this dialogue, balancing precariously between cultural policy and political culture, has grown very heated and pertinent in recent years, as well as stimulating, in an artistic panorama that has suffered from inflation and often offers no way out. We would all like art to be free, but not necessarily emancipated from the criteria of the market, in accordance with one of the many diktats of the socioeconomic model we inhabit.
In this sense, the MACT/CACT has been focusing for some time on the parallels and peripheries of art and artistic thinking.
The work of Jérémie Blanes springs from the artist's immediate, emotive need to express himself using one of the artistic languages that is genetically most natural and closest to mankind: painting and gesture. His is a painting that he elaborates from his starting point of the tradition of Street Art, drawing on the sometimes brutal aspects of existence: the historical movement that saw a degree of – not always conscious – rebellion against the official locations of art as its stylistic signature. But that's not all. In his artistic practice, this French artist creates a sort of gigantic diary, where his personal experience and symbols of mythology blend into what could be described as a total work. Painting does not prevail over art and art does not prevail over life: they penetrate each other, becoming a single whole, a dialogue between the artist's life and social reality.
This exhibition is the first one-man show to be held by Jérémie Blanes in Switzerland. His works range from small formats to the large scale.
Mario Casanova, Bellinzona, 2018
Translation by Pete Kercher
Museo e Centro d'Arte Contemporanea Ticino
Via Tamaro 3, Bellinzona.