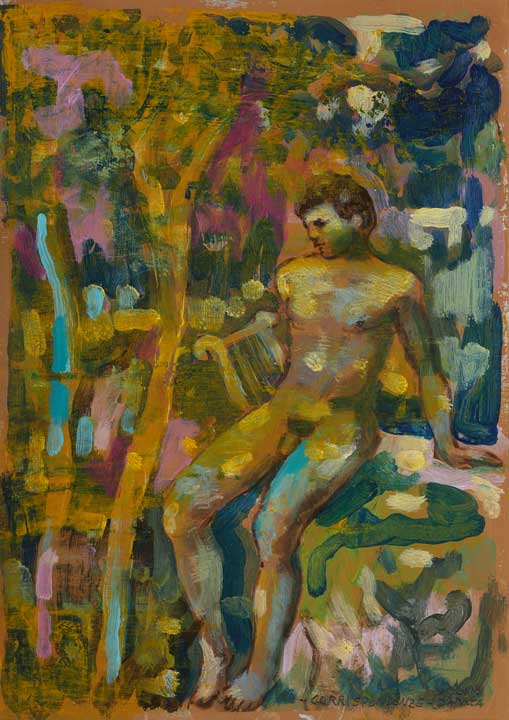 Les Fleurs du mal
Cesare Baracca
10 September - 17 December 2023
Sans titre (Les Fleurs du mal), 2020. Talking to myself about the work of Cesare Baracca.
It was back in 1857 that the French poet Charles Baudelaire (1821-1867) published the lyrical works of Les Fleurs du mal, a collection of his small poems. Sigmund Freud was born in the previous year (1856), while the influence of Jeremy Bentham had already started to make its mark in Victorian England even earlier.
The second half of the nineteenth century is of particular interest for an era that strove to shake off the burdensome weight of the stagnation and decline of the great aristocracies, passing along the corridors of the Decadent movement to become the springboard that would launch society towards the new world that was then taking shape. A wind of change and of catharsis was blowing silently in: the twentieth century of the class-based revolutions, of which France was an exemplary nation, brought with it many a civic upheaval for republican rights and liberties focused on the common weal.
This fresh take on creating literature also had parallels in painting and music. The French Impressionists and, further south, the Macchiaioli in Italy, who in those years were already experimenting with their blotches ('macchia' in Italian) and impressions balanced between subject and object, were the sign of a turnaround that flirted with the urge to restore some meaning to human society by also achieving a popularly-inspired change in artistic output. The transition towards the early twentieth-century art of Duchamp then brought about a complete reversal of the object into introspection.
The Belle Époque and Art Nouveau movements that straddled the turn of the century, forged by the aim to bring about a metamorphosis in society, seduced daily life to become common styles that took hold and spread in everyday reality. And art was once again applied to life, generating a widespread style imbued with beauty, with hedonism and with an open door to pleasure and knowledge. These were advanced, global processes that were to develop by induction as a consequence of research, analysis and the processes of subjectivisation, as well as of the acquisition of a collective social awareness, by virtue not only of the contribution of politics and of civic engagement, but also of the arts and of thinking, thus stimulating a series of stylistic revolutions that focused on the individual's quest for identity within a given social and temporal context: the time of the republic would in due course highlight other problems related to how to tackle the hitherto unresolved areas of distress and alienation. The nineteenth century constituted the laboratory for preparing and experimenting with the creation of a society of the future, a society that would achieve its idea of modernity – including in the area of technology – in the twentieth century. It was only with the advent of the various strands of fascism in the twenties and thirties of that later century that the entire work of constructing an artistic, social and civic intelligence would become in vain. And so it was that everything vanished in an instant, with the violence that was perpetrated by the culture of ignorance.
Baudelaire, together with many other personalities working in a variety of disciplines – from the sciences to sociology and anthropology – was a very early precursor of the hinge that opened the door to the short twentieth century: one that was as creative as it was terrible, but not yet studied at length and now buried beneath the prevarication of the global market.
Such almost limbic moments of passage from one era to another embody and furnish a good illustration of important experiments that appear to be devoid of stable points of reference, ever balanced on a knife-edge between decadence and desire, between body and concept. They still remain crystallised in the present day as elements that are fundamentally necessary for ripening and developing, so as to avoid the prevalence of the morass of weak thought and conformity, typical of a declining society dominated by its own ambitions.
This prolific period, of which precursor traces can already be identified in the course of the nineteenth century (again suggesting points of contact and similarities with our own post-contemporary age), was to develop primarily as the nineteenth century turned into the twentieth, channelling into important energetic zones artists who were strong but rebellious and "cursed", capable of stripping away the veils of a nascent bourgeois society to reveal its weak spots and fragilities and pave the way towards psycho-geographical places, cesspits of existential experimentation in osmosis with a constantly redefined and sometimes hostile world. The strength of these lacerations nevertheless opened windows on a veritable philosophy, whose roots were to bring a radical desire for change, such as the not infrequent phenomena of sociocultural movements in opposition to the dominant political power that were so experimental as to verge on the radical ethos of Lebensreform, almost as though that research were the ultimate emblem of a new religion or of a philosophy of life.
The birth of symbiotic forms between the North and the Mediterranean spirit, between mankind and the surrounding environment, between earth and sky, occupied the centre of every stage and above it. And the journey – whether real or symbolic – attempted, as it did for Turner, Schubert, Gauguin, Böcklin and Baudelaire himself, as well as for many other fin-de-siècle thinkers in search of a (re)discovery of a congenial genius loci, of the light and of an inevitable alterity, to (re-)create a strong individual and existential dimension at peace with social communism, with imagination and with improvisation. For Baudelaire, the quest for a Utopia, for a world that is not there, constituted his eternal "mal de vivre", the ennui of a timeless Steppenwolf in perpetual transit and infinitely aimless.
History as it is written is not made up of isolated cases, but of situations in context; had there been no coincidence and concertation of casual or causal happenings, Baudelaire alone would probably not have survived.
Art, as a popular form of philosophical safety valve, was to be his bitter palette, enabling him to go further in his writings, also beyond real life and the colours of its ideal counterpart, the driving force of a burning, tireless, unstoppable artist's vision. Au-delà du possible, au-delà du connu offers access to symbolism related to a mental journey and the unconscious, a key for interpreting the potency of truth vis-à-vis the power of reality, when horizons blur and become almost esoteric, mystical and chimeric forms in our mnemonic, atavistic perception of the universe, ever in search of the powerful removed element within which mankind in symbiosis and dialogue with nature is a tiny particle of the cosmos.
These are moments in history that anticipated and actually stimulated a fair proportion of those dropouts who perennially populated the margins of conventions, yet remained free, revolutionary and opposed to the constant pounding insistence that would establish an officially approved policy of new social exploitation. They were active witnesses of a ferment between the impossibility to stop and observe the past and the spasmodic, extenuating inability to trace the outlines of an imprecise society of the future. Magic and otherworldliness, the exorcising essence, the creation of a new religion of life and of a parallel existence gave birth to a host of communities focused on reform, such as the one founded on Monte Verità above Ascona and also including other (un)realities scattered not only across northern Europe, but also in Italy, although the latter have suffered the fate of historical oblivion.
Les Fleurs du mal achieved a vigorous literary pinnacle in the author's career because Baudelaire employed evocative, symbolic poetry to develop and touch issues related to the analysis, the enigma and the almost total questioning of existence itself that were such salient features of his day. There are also several additional farsighted and troublesome names, such as Freud, Nietzsche and others, whom it would be wrong to overlook because of the contributions they made to reconfiguring individual awareness in the context of society.
And with the theme of evil (the "mal" cited in his title), which so utterly opposed the radiant and sometimes superficial themes of the Impressionists, it is as though Baudelaire and other contemporaries and colleagues of his, such as Poe, Rimbaud or Redon, had somehow immortalised distress and crepuscularism, anticipating the subsequent movement of the Fauves, the unrestrained artists who would later scream their social distress from the rooftops, sharing it with Germany and painting their shared drama, with their narrow re-elaboration of perspectives and reversal of colours, in an Expressionism capable of summarising the intensification of the events produced by the neurosis of Europe's hysterical, rather unstable early twentieth century.
It was in the tormented, convulsed analysis of the Id and behind the Ego that Baudelaire anticipated and analytically depicted Evil as a distressing pain somewhere between acceptance and existential abnegation for those who suffer it and, on the other hand, perdition sought in the almost perverse and self-destructive pleasure of those who inflict it. This mindset was conveyed very well in his works, where travelling, departure and abandonment represent escape and distress. Whether it was to Mauritius or the opium-induced and psychedelic dimension, which – among other things – also attracted Freud in his studies of the existence of the subconscious, they constituted the matrix that was to pursue him throughout his entire artistic career.
While Nietzsche managed to write lucidly about the sentiment of "evil" – or about abjection in general, as an ineluctable anthropological element of human beings subordinated to the fatality of their own religious and tribal culture – the concept of free will changes completely in Arendt, verging on the formulation of the triviality of evil, just as others have studied its profiles and parameters differently, anticipating some features related to psychoanalysis and anthropology.
No, is evil maybe just a frustrated reaction to pain and distress experienced and suffered?
The parallel that Cesare Baracca (1965) started drawing in dialogue with Baudelaire and his universe does not occur in the framework of a coy affection for quotations, if it is at all possible to speak of the French poet having been coy even only once during his brief life.
Baracca's work is rooted primarily and intensely in the medium of painting – and very much so – with which he makes apparently ambiguous stylistic choices that are sometimes discordant in terms of keeping faith with the style itself. In actual fact, in the window of dialogue between signifier and significance, we perceive sound via a variety of differentiations or modulations at the very moment when it is produced, as it actually comes about, when technique and the focus on technicality remain no more than a mere tool at the service of the sense of things and of the artist, which he intends to convey using the gestures of the body. It is this very extension of the body, yet in complete contact with the mind, its accessory, that makes Baracca's work so unique in its faithful heterogeneity and apparent incoherence.
In times of trans-contemporaneousness, where nothing seems to be really as coherently modern and up-to-date as it used to be in the years that were dominated by the avant-gardes, the act of keeping faith with a style, the historical connotation by stylistic periods, no longer personifies a theorem, which has luckily been dissociated from History itself. The confused faith of, and the values expressed by, a declining society that is lost and disoriented by impalpability but, at the same time, by a pleasantly propitiatory flavour that seems to anticipate the future, matches rather well with the artist's desire to prioritise giving meaning to representation rather than to its image.
So here is Baracca, also balanced on a knife edge between light and dark as he reads the Bohemian poet and sees in him the stimulus for redefining parallels linked inexorably to a time that has no outlines, inhibited by a dull and subtly ineffective impact inflicted by man on his surrounding world: it's as though fatality and fatalism were always to end up representing an unjust, painful destiny. Employing impertinence and sensuality, Cesare Baracca retraces the universal values we all share, setting them free – also with a hint of insolence – for the world that contemplates them.
His is something of a cri de coeur against the standardisation of a society that has grown old, that devours, cannibalises and re-elaborates nothing but the memory of its own tenuous "revolutionary" illusion, that is to say if it is at all possible to talk in terms of any real socio-political evolutions having taken place in recent decades. Reading his work in general, Baracca seems to us to be different every time and in every moment, because of that painterly gesture that is functional even before being tritely mechanical; his stylistic matric never comes before his inner research and the new morphologies of the soul.
Exercising interpretation is always a difficult moment, from multiple standpoints, and an arduous task. And furnishing his own personal interpretation of Les Fleurs du Mal can once again be nothing but anti-real. And yet that is what the artist does, giving a sense of intimacy, actually also plural, to his work as a painter, as though his truth were also the personal, intimate and pleasantly filthy truth of every one of us. Nor does it come across as fortuitous that Baracca has decided to portray himself with determined insolence in the overture Au lecteur, almost as though assimilation and the pregnant dimension of metamorphosis had driven him to don the garb of Baudelaire, as though he himself had become the heroic, responsible reader and interpreter of his own distress and of that shared in common with others.
In the framework of a dimension between sacred and sacrilegious, where benediction and the almost religious, fatal conception of the universe are transformed, at intervals, into invective, Cesare Baracca does not set out to rewrite or quote the aesthetics of Baudelaire's priceless little poems, but more to make them his own and bring them back to life in the first person, moving from a stance of possession to a real transfer of personality, achieved by means of tempting experience.
The total – and totalising – approach adopted by the painter in his visual interpretation of the Fleurs and in his relationship with the poet intersects and interacts with the magmatic spirit of fusion of the world of today, of then, of always and of tomorrow, since Les Fleurs du Mal are also the origin of an uncomfortable existentialism that has always left its mark on humanity as a whole. And if man loses his philosophical nature in the Correspondances, to couple – in the mode of mise à nu and mise en abyme – carnally and mentally with the wild, ideal universe that surrounds him, in the Géante, Baracca never denies his anthropological consciousness, that reality is as vulgar as it is seductive a way of measuring up to our own corporal dimension, the gilded cage of our senses and of perdition, the ultimate limit in an infinite existentialism that welcomes us and listens to us; we, who are the orphans of an intransigent society that is deaf to our individual truths and desires.
The disruptive element that distinguishes these two authors and is shared between them, to the point of always and in any case constituting mankind's eternal peregrination in search of a meaning for things existential somewhere between the enigma of birth and the awareness of death, takes the form of that theatre of the absurd that is between us and infinity: an element of fragility that has always and in any case nourished the dogmatic dimension of strong, absolute power, the unquestioned characteristic of every fascist political regime.
Mario Casanova, 2021.
Translated by Pete Kercher
Museo e Centro d'Arte Contemporanea Ticino
Via Tamaro 3, Bellinzona.