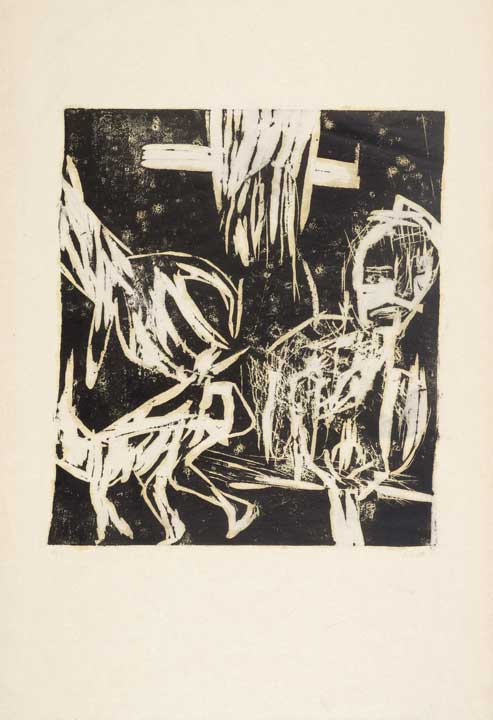 Martin Disler
Woodcuts
14 May - 6 August 2023
MARTIN DISLER (1949-1996) can unquestionably be numbered among the leading Swiss and indeed European exponents of the Neo-Expressionist movement that was born in Europe as the 1970s merged into the 1980s.
In parallel with the Italian Trans-avant-garde, so strenuously advanced by Achille Bonito Oliva, and Germany's Neue Wilden, Disler is an important element in one of the last historical collective movements of the twentieth century, which instilled into the artistic scene of the day the energy of growth and development that was to leave such an impression on many a future generation, my own included. The energy that permeated that period at the end of the last century marked the preponderant return of painting to an art scene that was characterised in the main by conceptual and minimal art. And this all came about with strong, radical methods, delineating the borderlines between a wearily fatigued past and a future then being sketched out.
The MACT/CACT is now presenting a selection of woodcuts, large-scale engravings, made in wood in 1988 by Martin Disler, who died prematurely aged only 47.
The importance of these engravings, which were made in a very limited edition, dwells in the verve and the impetuosity employed by the Swiss artist to carve his wooden panels, using any kind of aggressive cutting edge and instrument to cut into the sheet of wood, almost as though the surface were a sculpture to be modelled or a wall to be demolished. Quite apart from the usual themes so typical of Disler, related primarily to the relationship between life and death, between erotism and unconscious desire, these works – whose sign and content are so vigorous – represent the distress of a generation that was abandoned by History, finding itself an orphan of its own roots.
In a period like today, when the eighties of the last century have come under a spotlight of rediscovery and historical relocation, the work of Martin Disler constitutes more than ever a reawakening of an energy that marked the loftiest vigour and catharsis of the art of the last fifty years.
Mario Casanova, Bellinzona, 6 March 2023.
Translation from Italian by Pete Kercher
Martin Disler (1949-1996), EINE HAND ZERDRÜCKT DIE LAUS, 1988. Woodcut on Japanese paper, ed. 4/7, numbered lower left, signed and dated lower right, 55.3 x 49 cm (92.5 x 63.5 cm). Private collection, Switzerland.
Museo e Centro d'Arte Contemporanea Ticino
Via Tamaro 3, Bellinzona.